Are you interested in working in Rural General Practice?
Are you inexperienced in Rural practice / concerned about isolation / exposure to risk?
Working at Kyle Medical Practice may be the perfect solution for you…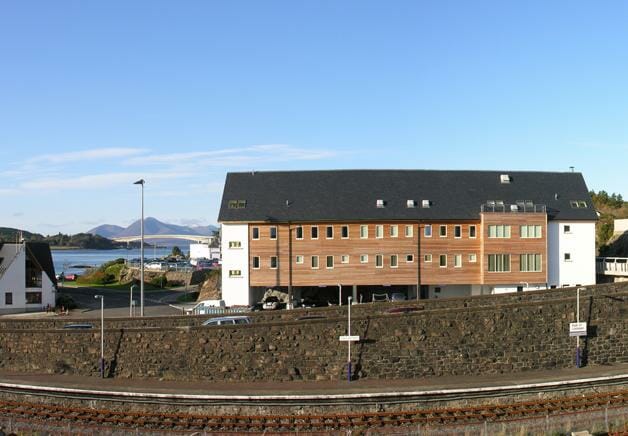 We are a Rural GP Practice but with unique circumstances that may make Rural practice more attractive to those unsure about taking that step:
No OOH commitment
No BASICS call outs
Broadford Hospital just 15 minutes from the Practice
Always at least two GPs in Practice as well other Primary Care staff
15 minute appointments
Infrequent Home Visits
We are looking for GP Locums interested in working in the practice for a few days or week at a time – both to support the existing service and to experience working in the practice for those interested in future career opportunities with us.
If you are interested please read on and get in touch with our Practice Manager Maddie Legrady maddie.legrady@nhs.scot
We are a small and friendly partnership and take pride in offering what we feel is a high quality service to our patients. With an ever increasing workload we try to get the balance right between providing a safe and sustainable service while meeting our patients' high expectations. We have scored highly in externally conducted patient satisfaction surveys and feel we are well respected and appreciated by our patients.
show more
We also have good relationships with the Rural Practitioner Team at Broadford Hospital and local health board representatives. We are an undergraduate and postgraduate training practice and all members of the practice team are involved in trainee education.

We all feel that working as a rural GP is both challenging and rewarding, and something we consider to be more of a marathon than a sprint. In this regard we feel it is important for all partners to try to maintain a healthy work-life balance.

We feel it is important for those interested in working in Rural GP to consider what living and working in small communities in the Highlands is like. We recognise it may be a big decision for some and would encourage GPs to come and work locum days in the practice to gain that experience first-hand.
show less
The practice population is around 2,700 and while turnover is generally low, we have a high number of temporary residents over the summer months.The practice area is large covering out to Cluanie and along to Ardnarff, (toward Lochcarron). Kyle itself has about 750 patients, and Plockton, Dornie, and Inverinate are next biggest.
Lochalsh is a popular tourist destination and Kyle itself lies at the mainland end of the Skye Bridge. There is a rail link through to Inverness and regular buses. Driving to Inverness takes around 1 ¾ hours, Glasgow and Edinburgh about 4 ½ hours.
show more
The area is popular for outdoor activities providing access for hill walking and climbing on the mountains in Kintail and the Cullins on Skye. There are opportunities for sailing, sea kayaking and SCUBA diving. An increasing number of sporting events are held in the surrounding area such as the Highland Cross duathalon, Bealach Beag / Bealach Mhor and the Celtman triathalon.
There are good primary schools in Kyle, Auchtertyre, and Plockton, and the high school at Plockton is well regarded, with the National Centre of Excellence in Traditional Music. There is a Co-op in Kyle and a larger Co-op in Broadford on Skye, approx 15 mins drive away. Tesco and Asda deliver locally. Inverness is well equipped for almost everything else.
show less
GP Partners
There are 4 GP Partners and we are delighted that our recently qualified GP Registrar Dr Peggy Chua is staying on in a salaried role at the practice.
Dr Lesley Unwin

Lesley moved to live on the Isle of Skye and work at Kyle Medical Practice in 2002, having lived and studied in Glasgow and worked in a GP practice in Blantyre for 7 years.

She has seen the growth in the practice from a small bungalow with an attached portacabin to the fully integrated health centre that we now work in. Lesley is the current practice cluster lead and the tutor for medical students from Aberdeen University.

She lives on Skye with her partner and enjoys sailing, cycling and other outdoor adventures.

(4 Sessions – recently reduced from 8 sessions)
Dr Kelly Boyd

Kelly joined the partnership in 2013. She is a Glasgow graduate and previously worked as a Rural Fellow in Sutherland and was Clinical Teaching Fellow and course coordinator for Aberdeen University based in Inverness.

Became interested in rural health after a year working in Dunedin, New Zealand. Kelly has been a GP trainer since 2014 when she and Chris led the project for Kyle to become a new training practice. Interests in green health and working with the local community to promote this. Kelly lives on a croft in Broadford with partner, two children and a dog. She volunteers with the local RNLI crew. Recent accomplishments include getting 4 kids and dog onto a paddle board.

(6 Sessions)
Dr Chris James

Chris joined the Partnership in 2011 after working as GP Rural Fellow at a number of practices in the Skye and Lochalsh area. He studied in Edinburgh before completing his Foundation years and GP training between Edinburgh and Fife. He has been a GP Trainer since 2014. He lives in Portree with his wife Ros and their five children. When not working or looking after the kids he enjoys running, road cycling and plays fiddle occasionally at traditional music sessions.

(6 Sessions)
Dr Caroline McKellar

Dr McKellar is an Aberdeen graduate and joined the practice as a Partner in 2017 having relocated back to the Highlands from Paisley when she completed her GP training. She always knew she wanted to work in a Rural practice delivering personalised Cradle to Grave care so Kyle was an ideal Partnership for her. She also sits on the LMC as the Skye and Lochalsh rep. She lives locally with her husband and 2 young boys. She particularly enjoys getting out on walks in the area with her family where there is never a disappointing view. She's also a closet birder and knows the good spots to see an eagle should that feature on your bucket list!

(6 Sessions)